Collection Pot launch unique initiative 'GivingBack' to support charities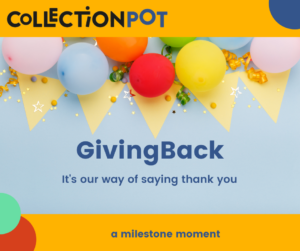 Collection Pot is pleased to announce the launch of the ground-breaking GivingBack initiative, enabling charitable and not-for-profit bodies to gain a percentage of all donations collected by Collection Pot users.
Fundraising every day, effortlessly.
Collection Pot enables anyone to create a free Pot for collections associated with all of life's moments. With GivingBack, when they collect for a birthday, holiday, leaving gift, or any occasion, a code can be applied during set up, ensuring a per cent payment of the final Pot balance will be transferred to the charity. The best part? It's all done without reducing the recipient's end balance – and comes at no cost to the contributor.
Game-changing charitable donations made for all life's occasions
Amazon pioneered indirect charitable giving with Amazon Smile, allowing shoppers to have charitable donations made on their behalf simply when purchasing.
Now Collection Pot users can support their favoured charities and a non for profits simply by adding a GivingBack code to their Collection Pots.
"The concept of a win-win is always a business no brainer and raising money for charity in a way that is simple and attached to everyday group collecting has been the missing link we've been working hard to overcome," said Adam Stevens, Commercial Director. He added 'It's our way of saying thank you.'
In addition, a Collection Pot charity landing page offers flexibility around the imagery used, enabling charities to change and update the header image and promote specific campaigns or promotions.
With thousands raised for charities direct through Collection Pot, this new indirect way of giving opens new doors for charities seeking awareness while diversifying their revenue streams.
Making Charity for everyone!
Charitable giving often conjurers up the marathon or sponsored walks but it's so much more than this. Today's generation is keen to make a difference in any way possible and building charitable giving into the technology used during everyday life is the way forward. By using GivingBack, people can support charities close to their hearts or support and discover the causes their colleagues, friends, and family champion.
Getting buy-in from businesses
It also works to meet the business's own CSR and charitable goals.
A company with up to 250 employees who regularly collect for employee workplace events such as new babies, engagements or leaving gifts could produce £200+ of additional funding for their "charity of the year" simply by adding its GivingBack code when creating Collection Pots.
With over 6 million SMEs in the UK, this represents an exciting area for charities to gain attention and support. Charity profiles are elevated when people hear their stories and start a donation to support that work. With marketing budgets low by necessity, this is now a great opportunity to create a new income stream generating the vital funding charities need.
Collection Pot is thrilled to kickstart this new initiative and is keen to explore innovative ways to support specific events and fundraising campaigns run directly by charities.
To get in touch and see how your organisation can benefit from GivingBack drop us an email