Collection Pot Supports Dallaglio RugbyWorks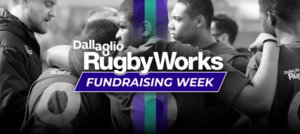 Collection Pot is proud to announce their support of Dallaglio RugbyWorks Fundraising Week which takes place from the 22nd-28th March, to raise funds for the young people who take part in the RugbyWorks interventions.
Rugby legend Lawrence Dallaglio OBE founded Dallaglio RugbyWorks in 2009 following the conclusion of his Testimonial year with Wasps. Inspired by the strength and focus that rugby gave him as a young man and throughout his professional career, Lawrence founded the charity which supports young people to help them re-assess their lives, focuses on developing key life skills and ultimately equips them to get into sustained education, employment and training.
Adam Stevens, Commercial Director of Collection Pot said "We are very proud to be supporting Fundraising Week and excited to be working with the team to enable additional funds to be raised. As we emerge from the pandemic, the interventions that change the lives of young people are vitally important and make a real difference."
Collection Pot will be donating a percentage of profits from all Pots set up until 28th March 2021.
Visit the Fundraising Week page to make a donation or set up your Pot and help to change young people's lives. https://www.collectionpot.com/charity/drw/