Fundraising Platform Comparison | Are Online Collections Really 'Cashing In'?
Recent press has covered some of the misgivings around group collecting, with concerns over excessive fees and hidden costs for charities to extract generous donations. Here we provide a fundraising platform comparison and information on how Collection Pot provides transparent fees.
How can you ensure your donations are going to the right place and can group collecting be improved to be better for everyone? Collection Pot is a UK-based business on a mission to make group collections fun, simple and secure, and they are making great progress in providing an alternative solution to how people accept donations online.
With workplace collections higher than ever before the pandemic, and charitable collections also on the rise, Collection Pot believes it's important for everyone to understand how charges are made when they start to raise funds.
CEO Wendy Carter believes that many generous contributions are made without looking at the different fees between platforms.
"We totally understand why there is an interest in the media 'naming and shaming' some donation platforms, but no one should be made to feel foolish for donating to a cause they feel passionate about. It can be so easy to use the online fundraising platform you've used every time, but there are different rates and sometimes it can be easy to misunderstand the fees."
"With Collection Pot we aim to make it simple, it is totally free to create an account, free to create unlimited Collection Pots and as no one should pay to receive their gift, redeeming a Collection Pot is also completely free. We charge no fees for charities to be listed, or monthly subscriptions and no fees for processing Gift Aid. The only cost to anyone contributing to a collection is the payment processing fee and for that, we have an industry-low transaction fee of 1.9% + 20p."
Collection Pot = 1.9% + 20p = 40p
JustGiving = 2.9% + 25p = 54p
GoFundMe = 2.9% + 25p = 54p
Crowdfunder = 1.9% + 23p + (3% platform fee) = 73p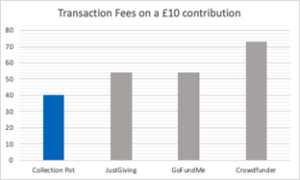 Competitor Fees checked May 2021 The table above relates to charges for 'crowdfunding', not charitable collections.
Alongside other platforms, Collection Pot offers the facility for contributors to add a voluntary top-up or tip to their contribution. This is a totally optional amount that Collection Pot uses to cover the card processing costs, before investing the remainder into new feature developments, keeping customers' funds secure and maintaining our personal approach to customer service.
Adam Stevens, Director of Partnerships, comments: "When we started the Collection Pot platform, we wanted to offer a service that was fun, safe and ethically fair. We pride ourselves on great service, which means we pick up the phone! We continue to invest in security for the collectors, feedback from our customers told us that you didn't want to show individual contributions, so we removed that option, that way there's no shaming and all pots are private. "
"When it's time to spend a Pot, there are over 50 gift card options including High Street stores, along with local businesses and city retailers, together with an option to withdraw the balance quickly and securely using your Visa card.
We have operating costs like any other business and, keep them as low as we can, we believe that the overall experience of securely making online donations, or the pleasure of being able to withdraw a balance instantly is far superior to the days of receiving 'coins in an envelope. "
When it comes to any group collection, fees will always be an emotive issue. In the end, what might matter most is choosing a platform that has its customers at heart.