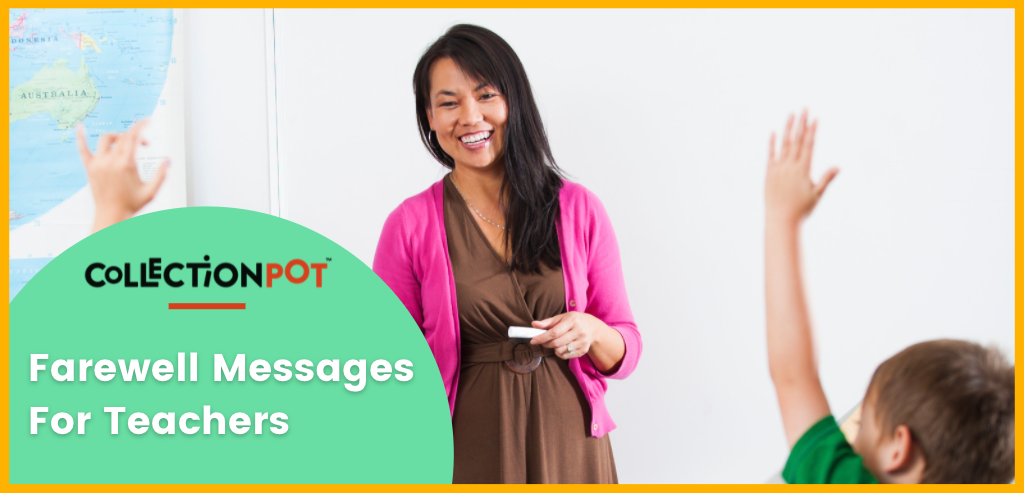 They've cared for your most precious ones, and if you've ever homeschooled, you'll know that getting the perfect farewell message for a teacher isn't just a nice to have – it's essential to showing your deep appreciation for them! Whether it's you saying goodbye to your teacher or you are writing the goodbye message for a teacher, getting the tone right for a teacher leaving message is a tough job! Luckily, we've got a whole range of ideas to choose from.
Examples Of Farewell Messages For Teachers
"Thank you for looking after (NAME). They always tell me they love how you (GIVE EXAMPLE). It means the world to us they have been so happy under your care and guidance. Wishing you the very best."
"Myself, (partner name if applicable) and (NAME) would like to thank you for all you have done at (SCHOOL NAME) and the care you have taken in their learning journey. It is clear that you are an exceptional teacher, and you will be greatly missed."
"Wishing you the very best for your next adventure, (NAME) will certainly miss you and your (Insert asset – eg creativity, kind words, guidance.) Thank you and good luck."
"Wishing you luck and best wishes for your next adventure, we know you will make a fantastic impression. Thank you!"
"We will always remember you from the very first day and how welcoming you were to (NAME). Thank you for all you have done, you will be missed!"
"We can't thank you enough for your efforts and hard work. (NAME) has come along so far in (area of improvement – eg maths, writing) and we know this is in a great part down to your guidance and excellent teaching. Thank you."
"You will be sorely missed at (SCHOOL NAME) and we are tempted to follow you! Thank you for all you have done, and we know you will be an asset wherever you go."
"(NAME) has learned so much from you in such a small space of time, showing you have the skills of a natural born teacher. We wish you the very best of luck in your career path."
"We asked (NAME) what he said about you and what he would miss the most and they said "INSERT RESPONSE." We couldn't agree more! Wishing you the very best of luck."
"It is rare to find someone who makes such an impact on a family in such a short amount of time. The name (TEACHERS NAME) will be treasured by us for a long time, as a reminder of how you settled (NAME) into the school and helped them find their feet. Thank you."
"As well as teaching, guiding and making (NAME) smile every day, you've also helped source their missing (PEN/JUMPER/BAG) multiple times, and for that, we are beyond grateful! Jokes aside, we felt your warmth and expertise at every meeting and were very comfortable leaving NAME in your capable hands. Thank you for all you have done."
Whatever the reason you need to leave a goodbye message for a teacher, we hope that these leaving messages say goodbye in a way that's memorable for all the right reasons! Why not create a Collection Pot and raise funds for your child's favourite teacher's farewell? It beats 20 bottles of average wine and 12 teacher mugs, or the dreaded 'smellies' – they can choose to spend the balance as they wish. Share the link on your WhatsApp groups, on email, or give out the URL at the school gate. You'll have the funds whipped round in no time, and with no coins to weigh you down, you'll have more hands for the bags, coats, wellies and spare hats and gloves!