Unique Honeymoon Destinations in Europe to Consider in 2022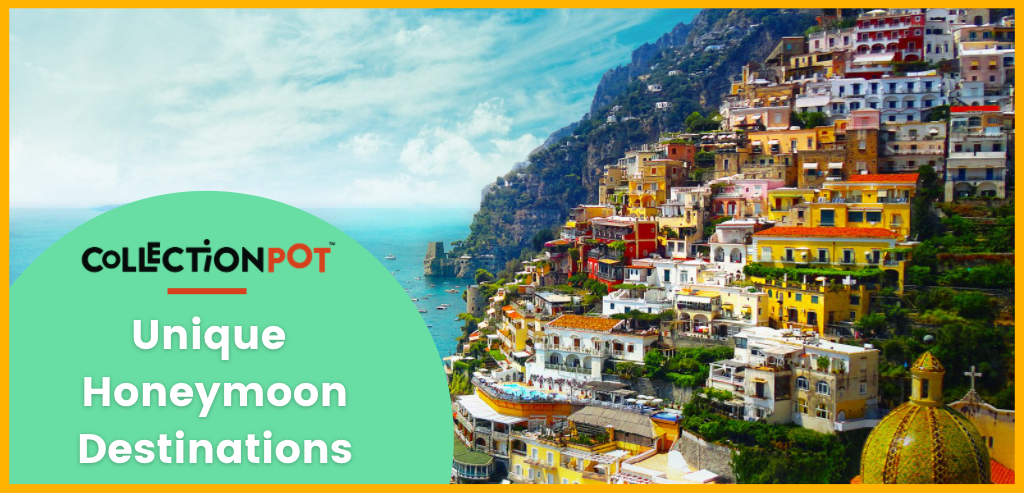 The restrictions are loosening, and the amber and green lists are changing, so if you are lucky enough to get married this year, you'll want some ideas and honeymoon destinations to consider celebrating your nuptials! We've chosen these ones closer to the UK for convenience but stay tuned for a follow-up article on honeymoon ideas that are further afield.
Destinations are all down to personal taste. You and your beloved may love the idea of sitting on a beach, or perhaps you love climbing, a spot of rain and selfies in matching anoraks! Your trip should be about what you want and what makes you happy together.
Think back to some of your favourite moments. Are they packed with activity or moments of quiet calm together? Do you really enjoy the sunshine or just the idea of it?
Choosing a honeymoon destination
Some key pointers are to start with restrictions. We know, yawn! But get your costs for tests and any planning around isolating sorted, and your insurances out of the way, ensure you are comfortable with where you are heading to, and then get plotting!
Then look at the weather. It can be a real deal-breaker to travel to somewhere dreamy with skimpy clothes and find its rainy season. Ensure that you take a look at average temperatures, rainfall and sea temperature.
Next up – location. It's hard enough to choose a country, but then there are more choices. Town or village? Country or capital? If you are going somewhere far, flung off the beaten track, consider the airport location first, and how you can get around. Would driving suit you, or would you like to totally relax?
And of course, reviews. Take the reviews with a pinch of salt – (only a certain kind of person spends their holiday peering under the bed to take photos of dust bunnies) but do ensure you take stock of recent reviews. A lot can change in a few months!
For adventure: Go wild in Sweden
Sweden has a whole range of quirky hotels and honeymoon spots. You could try the Ice Hotel to start. If you wear socks to bed, this might not be for you, but for experiences and a one-off stay, it's unbeatable! 80km northwest of the nearest big city (Luleå) and 200 km north of the Arctic circle, they offer icy accommodation, wildlife activities and could even host the wedding ceremony itself!
If you go in Winter, you are almost guaranteed snow, so you could take a break from cosy moments in the icy bed and head to walking Isbanan, where you will be walking on the sea, covered in ice and take a dog sledge ride at night, or go kick sledging. Perfect!
Sticking with Sweden, you might want to head to the Treehotel. Perfect for repairs and based in Edeforsvägen, you can stay in modern, sleek designed tree rooms located in the tall pine forest. Up 4-6 metres above the ground, choose from a mirrored wall treehouse, a lifelike bird's nest or a UFO-shaped house. Ideal for couples who want something very unique…and to tick off the bucket list!
For classic style: Santorini in Greece
The instgrammer's favourite spot with white sand beaches, turquoise water and beautiful palm trees. You will be spoiled for choice in where to stay in Santorini, but we hear great things about Katikies Santorini – one of the top hotels in the world, with perfect panoramic views of the Santorini Caldera. You could also cruise to the volcanic islands of Santorini's Caldera region, swim in hot springs, admire views from an active volcano and explore the typical villages of Thirassia and Oia. Love the nautical life? Cruise onboard a catamaran and go scuba diving. All around, you can take in the magnificent views of the typical blue and white houses across the hillside and enjoy some brilliant traditional Greek food with your loved one.
For a less crowded beach break: Cilento in Italy
You've heard of Venice and Rome; now put Cilento on your honeymoon list.
Cilento is an Italian geographical region of Campania in the central and southern part of the Province of Salerno, and an important tourist area of southern Italy.
Home to the second-largest natural park in Italy, the National Park of Cilento and Vallo di Diano, it's riddled with beauty spots. If you love a beach break, you are in for a treat. The intense and incredible colours of the seawater, golden sands and enviable sunbathing spots make this a must-have. After a few Aperol Spritzs, you might need some food. It's fresh here, and as it's known as the home to the Mediterranean diet and where buffalo mozzarella is made, the food is incredible.
For a secluded, uncrowded city break: Heidelberg, Germany
Heidelberg is often called Germany's romantic city, and Ernest Hemingway and Goethe found inspiration here. Was it the Renaissance architecture, such as the castle or the cobblestoned streets of the old town?
Enjoy beautiful sunsets, head to the Marktplatz and enjoy Christmas markets when they are on, or if you like wine, see the Great Tun – a barrel that holds over 220,000 LITRES of wine! `enjoy one of the classic "brew houses" like Kulturbrauerei Heidelberg or Vetter's Alt Heidelberger Brauhaus in the Old Town.
For making memories: Edinburgh
Discover Edinburgh as your honeymoon destination and make new memories as you do fun activities in this vibrant city. Edinburgh is easy to explore on foot and perfect for making new memories. Start at the historic Royal Mile and settle into a pub, take in a museum or some shops. Then head to the botanic gardens and breathe in the calm before a hike to Arthur's Seat. While you may love walking in the day and seeing the sights by boat, bus or foot, you'll also love the atmosphere of the city in its bars and restaurants. Enjoy finding cosy atmospheric pubs, or take a guided tour to learn about whisky, or to Edinburgh's the chocolatarium to make your own bar and then head back to the hotel to enjoy your spoils!
For luxury in the UK – Kirkby Lonsdale
If you are looking for a honeymoon in the UK that's luxe and doesn't require an anorak – why not stop at Kirkby Lonsdale? As said by John Ruskin – "I do not know in all my own country, still less in France or Italy, a place more naturally divine, or a more priceless possession of true 'Holy Land'. Tall praise indeed!
Absoluxe Suites offers a honeymoon experience – Veuve Clicquot Champagne in your suite on arrival, plus a freshly chilled bottle for each of the following two days, a bespoke flower bouquet from the local florist, as well as balloons, chocolates and rose petals.
They work closely with Lake District Car Tours, who have even escorted the Queen. Let them take you on a beautiful scenic drive and stop at amazing places to eat for a sublime Lakes experience. As this is a town between the Lake District and the Yorkshire Dales, you can get the benefits of seeing all the sights between the two.
Need more relaxation? Head to the hills! Castlerigg Stone Circle is calm and serene – and chances are you might see someone else proposing! After the refreshing winds and walks, enjoy a treat meal. There are now seven restaurants with Michelin Stars in The Lake District, including the two-star L'Enclume in Cartmel, so abandon the picnic basket and flasks and treat yourselves!
How to ask for contributions for your honeymoon
We LOVE helping couples collect funds for their dream honeymoon. A pool of funds ready to spend on snorkelling, sledging or even a few lovely meals out will all be greatly appreciated. If you are the happy couple, it's not too late to set up a Collection Pot for your honeymoon!
Create an online wedding collection and raise funds for your honeymoon from everyone and take out the balance when you need it. You're not tied to one travel agency or package and you can spend it on whatever is right for you. You can set a 'goal' target, or just accept gifts! Alternatively, you can choose to redeem via Collection Pot's catalogue of gift cards that include travel companies such as Jet2holidays.
It's totally free to set up a honeymoon collection pot. Take a look now!