Baby Shower Gift Ideas For New Parents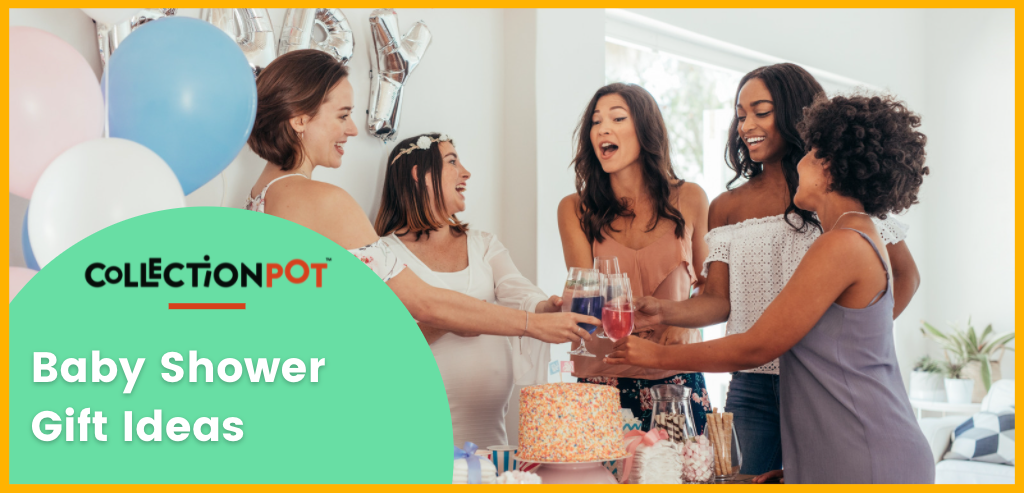 Baby showers are almost a rite of passage for new parents, that come with silly games, amusing anecdotes from other parents who have been there and done that, and unsolicited advice from people who don't have children. But, let's face it, it's all about the baby gifts, because new parents are going to need stuff, lots of stuff that they never even heard of before and don't know they need. And they need essentials for days, like nappies, muslins, and onesies – all of which you can never have too many of.
If you are looking for baby shower gift ideas for a shower you have been invited to, or perhaps you're the new parent just working through the copious amount of research to get you up to speed before the baby arrives, here are a few ideas of baby products worth getting. (Alternatively, you might be looking for a way to skip the shower and the gross game of 'Guess what's in the nappy' – we've got you covered there also.)
Baby Shower Gift Ideas
Some cool and/or practical gift ideas to consider:
– The gift basket: this is a classic that can be reinvented by the range of products chosen, or by theme/category, such as baby's first week at home with gentle laundry products, baby bath and grooming kits (including the nasal aspirator, often known as the snot or bogey sucker), or the gift of sweet dreams with sleep-inducing products (lavender-infused items work well)
– A pamper pack/survival kit for the new mummy and daddy: they often get forgotten about because everyone loves to buy cute little outfits and cuddly toys, but it's the parents who really need rest and relaxation!
– The big-ticket baby item: you have to really like the new parents or be related to them to purchase one of these. Consider a bassinet/Moses basket, high chair, baby bouncer, rocking chair, a baby bed, portable baby bed, car seat, baby monitor/camera if you want to really win brownie points
– The sleep sack/bag: the ones made out of merino are nice – to keep baby safe and warm while sleeping
– The cover-up: a versatile cotton blanket to cover for breastfeeding in public, cover the carrier and car seat too
– Baby-wearing: yes, that's right – jackets that swaddle baby into the parent, baby wraps/slings, kangaroo pouches, newborn holder/carrier, and more
– The changing station: when something bad rolls into town and you need to change that baby at home or on the go – consider changing mats, diaper (nappy) genie, changing table,
– For the kitchen: food/bottle warmer, bottle sanitiser, and other baby appliances (anything Philips AVENT), bottles, dummies, baby bowls, cups, spoons, etc.
– Baby entertainment and activities: baby-safe stuffed animals, cuddle cloths, visual books and noise-making toys, electronic educational toys, baby gym, baby swing, johnny jump-up – the possibilities are endless
– For the nursery: a mobile and bedding set, nightlights and lamps, reusable baby wipes (known as cloths),
– Sentimental keepsakes: from albums through to mould-casting kit for feet and hands.
Well, as you can tell – the list goes on and on. (Have you ever travelled with a baby? A 16th-century monarch's entourage travelled with less.)
Whatever the scope of baby product options there are, selecting a gift can be personal and some items need the individual parent's input, e.g. stroller, diaper bag, model of breast pump, nursery theme. These types of items should either come with gift exchange cards or previous discussions had with the end-users.
The Baby Shower Wish List
Online registries are a potential remedy, but they don't always work because some of the things you really need or want have been snapped up by the early bird or they go unselected for the safer or inexpensive options. And there will be some who don't even go onto the registry and bring a rogue gift or duplicate by accident. Online registries can be too limiting and often creates barriers you want to avoid.
Sometimes (all the time) it's best to go with simple and easy. And seeing as parenting is manic on a good day, and life is just getting busier by the minute, consider the better alternative to the online gift registry or wish list.
A Welcome Baby Fund Page
When life is too hectic to arrange or attend a baby shower, and the 'perfect' gift seems intangible, go to Collection Pot – and give the gift of choice through our online funding platform. A simple idea can be the best and smartest solution.
If you are organising a baby shower as a friend, family member, or parent, consider setting up an online giving page to raise funds for the baby items you need or even for their university/college fund.
The great thing about Collection Pot is versatility. You can opt to raise funds to be:
– Direct-deposited into an allocated bank account
– Used to purchase gift cards from a great range of major retail brands
– Loaded onto an e-wallet or monetary gift card, e.g., Visa, Master Card, to shop anywhere
– Used to purchase products from our online catalogue.
Collection Pot is free to create a money pot for any occasion, is a safe and secure online platform, and we put the choice into the hands of the pot recipient – the new parent.